In our guided tour, we visit Bendigo's grave and then Sneinton Market, where we pause to talk about Nottingham after his death. Most professional boxing in Nottingham took place at the nearby Victoria Leisure Centre or the Ice Stadium. Did you know that Cassius Clay was there in 1963?
He didn't fight there but we're proud to say he came to a night of boxing in Bendigo's town. We found this story by Ethan Lewis and are grateful for the image too.
On the 27th of May 1963 my father, aged 15 at the time, met Cassius Clay at the Victoria Hotel in Nottingham (now the Hilton Hotel). He also obtained his autograph (pictured below).

Ethan Lewis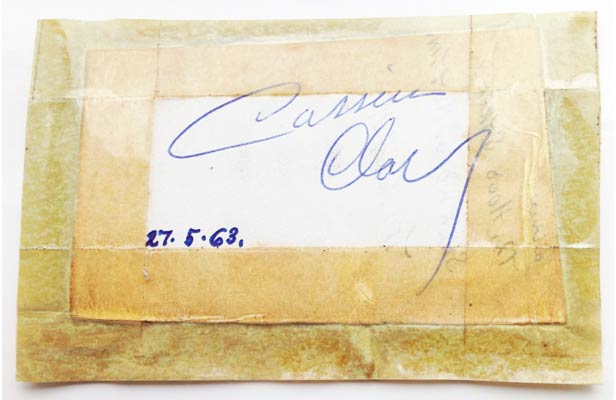 Cassius Clay was also photographed with two well-known Nottingham Police Officers. PCs Geoff Baker and Denis 'Tug' Wilson were both about 7 feet tall in their boots and helmets.
Clay was in the city to watch the British Middleweight Title fight between George Aldridge and Mick Leahy. This was prior to Clay's fight with Henry Cooper at Wembley.
The Aldridge v Leahy fight was for the British Middle Weight Title and took place on 28th May at the Nottingham Ice Stadium. It lasted just 1 minute 45 seconds. The referee Ike Powell stopped the fight after Aldridge was knocked down twice, Leahy winning on a Technical Knockout.
Leahy's career spanned nine years between 1956 and 1965. The orthodox middle weight lived in Coventry but hailed from Cork, Ireland. It wasn't the first time Leahy had fought at Nottingham's Ice Stadium. He faced Nottingham's Wally Swift there in December 1964. The promoter was Reg King and again the British Middleweight titel was up for grabs. It went the full 15 rounds with Swift winning on points.
George Aldridge was a middle weight from Market Harborough in Leicestershire. His career of 52 professional bouts was between 1956 and 1963.
"Ask no questions, I'll just talk"
Back to Cassius Clay and the Victoria Hotel press-conference. Clay said to the press 'Ask no questions, I'll just talk'.
In true style, Clay predicted that he would beat Cooper in the fifth round. He was right.
Clay also described that Sonny Liston was an 'ugly bear' who would 'fall in eight'.
Clay and Cooper met on the 18th June 1963 at Wembley Stadium, the referee was Tommy Little. Despite knocking Clay down in the 4th round, the fight was stopped in the next round due to cuts suffered by Cooper. Cooper fought him again (as Mohammed Ali) in 1966 and that fight was also stopped for the same reason.
Clay was nearly right about his fight with Sonny Liston, which took place the following February in Miami. Liston retired in the sixth round, claiming a shoulder injury.
Cassius Clay (as Mohammed Ali) returned to Nottingham in 1992. This time it was for a book signing event, at Dillon's bookshop in the town centre.
Thanks as always to BoxRec for the records of the boxers and their fights.